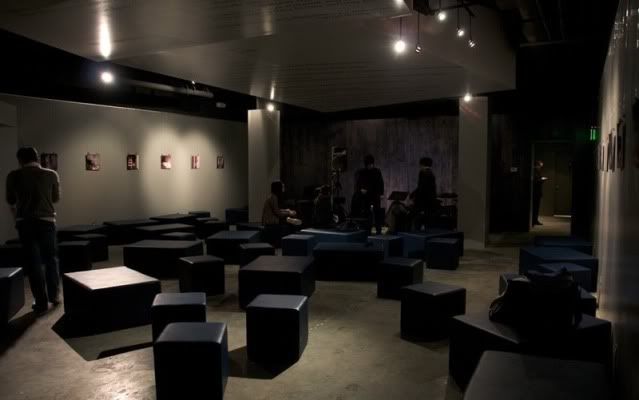 The performance room at the Blue Whale in Los Angeles, CA.
If you took a survey of jazz musicians around the world, odds are that almost all of them would cite "negotiations with club owners" as the thing they dislike most about their profession.  There are so few rooms that are amenable to jazz in the first place, and many of them are innundated, even bombarded with requests for booking by every jazz musician under the sun.  As a result, the demand to play jazz venues far often exceeds the supply of available places, which puts the jazz musician in a serious negotiating disadvantage.  Musicians often have to email, call or drop by a club more than a few times before they can get a call back, and then they have to do said emails, calls or drop-by's even more to get a date.  Owners can use that kind of desperation as leverage on the musicians to get them to play for next to nothing, and/or to force them to promise that they will bring 30-50 of their best friends out to see their gig.  Once at the gig, often times it is up to the owner's discretion as to whether the musician gets a complimentary meal and something to drink, a discount on food and drink, or nothing at all.  Sometimes any prior made agreement can change from the time the gig is booked to the day of the performance (and even during the performance).  Certain clubs have been known to surreptitiously subtract the price of the meal from the musicians' pay, much to the surprise and dismay of the bandleader.  If the pay is from the door rather than a guarantee, the musician has to hope the club conducts an accurate accounting of the final take, and so often he or she can come away feeling somewhat fleeced.  There are even clubs who delay payment to the musicians for weeks or months and/or write checks that bounce when cashed.  The bottom line is that the musicians often feel like they are treated like second-class citizens with no rights, left at the mercy and good graces of the club and its owner, with no recourse if they get taken advantage of.
Obviously this is not the case with every club.  Decent and good club owners do exist in this world, but unfortunately there are enough of the other kind to make the process of booking gigs tedious at best and excruciating at worst.  If you own a club or music venue and you do any of the above things, stop it now.  It sucks and you should be ashamed of yourself.  Boo to you and all your ilk.
Of course the reason why these things happen is because it can happen.  There isn't a "jazz regulatory commision" that enforces proper club/musician rules of engagement.  If the musician is wronged he can sue but more often than not the amount of money in question makes it so not worth it to pursue.  Musicians can decide to stop playing somewhere only to see other musicians (and often times their friends) continue to hustle gigs from that place.  It would appear that all the power is in the greasy hands of the club owner.
There is, however, a consequence to such nefarious behavior, namely that the ill treatment of well respected jazz musicians over time exacts a toll on any place that wants to call itself a "jazz club".  Any establishment with such aspirations needs to understand that the best musicians in any city will have put too much of their time and energy into their craft to let it be trampled on by those who have no respect for their art or themselves.  It becomes increasingly difficult for any place to claim they are a "jazz club" when all they have on their schedule are college students, moonlighters with day jobs who bring in all their coworkers and family to support their hobby, or singer songwriters and rock musicians (not that there's anything wrong with singer songwriters and/or rock bands, but why are they playing at a jazz club?)
The other issue is that often times there seems to be a direct correlation between the amount of respect given to the jazz musicians and the overall success of the establishment.  Places that generally do not have a lot of business sometimes turn to having live music to try to boost their own patronage through the promotional efforts of those whom they decide to book.  This is especially appalling and a terrible business decision, for if you are trying to base the success of your venue completely on the ability of local independent jazz artists to "get the word out" and pack your house, you might as well quit now.  Even if people turn out in large numbers to hear a particular artist, they will not come back if the service is inconsistent, the decorum old and in need of repair, if the bathrooms are dirty and smell bad, and especially if the food is anything less than better than what you can make at home.
The flip side of the coin is that when you have a successful venue with great food and friendly bartenders, attentive and personable servers and a comfortable atmosphere, you will almost always have customers, at which point having live music becomes a luxury rather than a necessity.  In this situation, two things can happen.  The first and more common is that the music is treated like a jutebox run by living manikins, often stuffed into the corner of a room, where the musicians are asked to play "lively" in order to sell more drinks but "not too loud" so as not to disrupt conversation.  You will get your check in the mail weeks later after filling out a W-9 form.  You become a white noise generator, just above elevator music but certainly less valuable than the giant tropical fish aquarium in the middle of the room.  Not ideal.
The second and perhaps the only possible scenario where jazz can truly flourish is where the owner of the club puts together a beautiful room with unique and attractive decor, with delicious food and excellent bartenders, comfortable seats and clean restrooms, and people who work there that make you feel welcome and glad you came out.  He makes his place into a quality listening room, where people can concentrate on the music being made.  And to top it off, this owner loves jazz.  He just doesn't love jazz because he thinks it will make him money, he is a true fan of jazz, someone who knows who all the great musicians have been from the beginning until now, who listens to music constantly and especially to the music he books in his club.  He might even be himself a jazz musician, someone who knew what it felt like to show up to a gig out of cash and hungry only to be told that they decided to change their food policy that night and would only give out peanuts to eat for free.  He would truly recognize the value of the individuals who even attempt this art form, and try to provide a forum for them where they could be at their best for all to see and hear.  To so many jazz musicians, he would be an angel.
That angel's name is Joon Lee, and his club is the Blue Whale.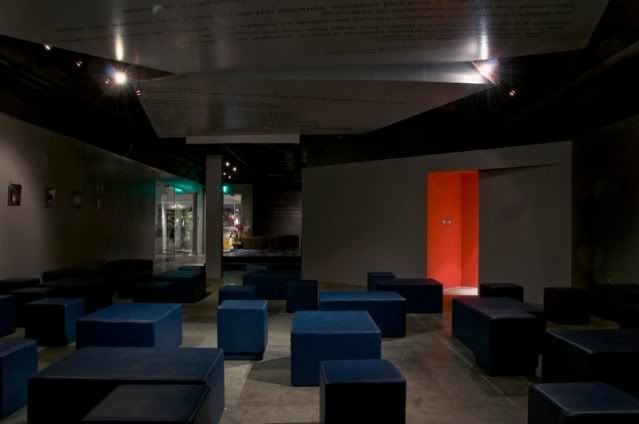 Joon was a former architecture student studying in New York when he first heard a recording of Bobby McFerrin and Chick Corea playing duo.  That recording changed his life.  He dropped out of architecture school and moved to Los Angeles and began to take voice and improv lessons, quickly becoming a very good creative improvisor and a passionate singer and lover of jazz.  He played gigs in Korea Town and elsewhere, taking notes and eventually coming to the conclusion that there really wasn't a club in town that fit his ideal of what he wanted to see in a jazz club, and that in order to realize that ideal he would have to open one himself.  Combining his knowlede of structural aesthetics with his impeccable artistic taste, Joon would go on to build perhaps the most unique jazz room in Los Angeles.  He is more than fair to the musicians who have played at his place, and even the staff love Joon and seem really happy to be working there.  Joon's taste extends to his selection of musicians, as he personally reviews each submission and picks only the music that he enjoys and would like to see at his club.  He really is all about the music, though he is not only about the music, as his attention to detail extends into every aspect of his place, from the lighting and sound system down to the food specials and music calendar drawn meticulously in chalk on one of the walls by Joon's own hand.
Ask any jazz musician in LA about the Blue Whale and they all agree that this place is too good to be true.  People who play here can always expect an audience, one that isn't neccesarily comprised entirely of the artist's family and friends.  Musicians feel entirely welcome here, and as a result you are beginning to see some of the best players in town start to get on the schedule.  One can only hope that Joon has created a working model that other potential club owners in Los Angeles can use to create more places like this one, because God knows we could use about twenty more of these.  In the meantime, however, we can be grateful to Joon and the Blue Whale for showing the jazz community what can be possible if things are done the right way, with integrity throughout as a business and an unwavering commitment to the things that prompted him to have a club in the first place.
Thank you, Joon.  May your club succeed beyond your wildest dreams.